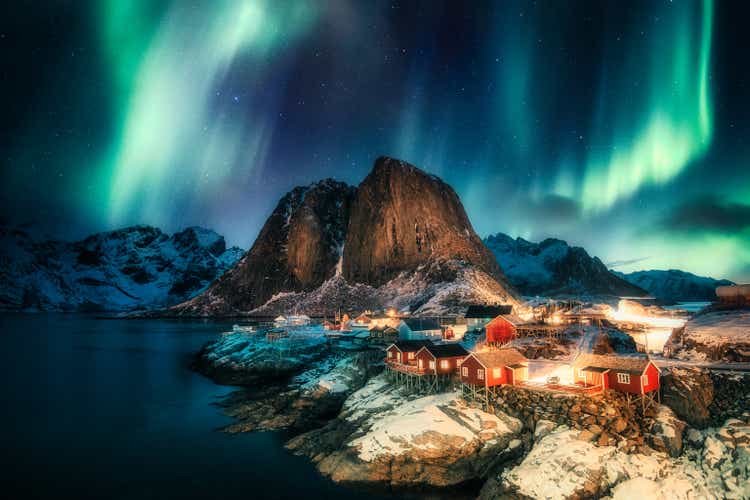 Looking for a high-yield investment with rapidly-increasing dividends?
Then check out Norwegian oil and gas major Equinor (NYSE:EQNR). Being on Europe's doorstep, EQNR is in a unique position to benefit from the dislocation of Russian energy sales to that region.
Like many energy companies, it's coming off a very strong 2022, but, in EQNR's case, management sees the party continuing for years to come, and is stepping up its dividends and buybacks in a big way in 2023:
"The record earnings last year and our strong financial position also enables extraordinary distribution to shareholders in 2023. We propose an extraordinary cash dividend of $0.60 per share for fourth quarter.

This will bring total quarterly cash dividend to $0.90 per share subject to AGM approval.

The board is clear in its intention to maintain this level for the first three quarters of 2023. In addition, we propose an extraordinary buyback of shares of $4.8 billion, making it $6 billion for the year. In total, this leads to a capital distribution to shareholders of around $17 billion in 2023." (Q4 '22 call)
Company Profile:
Equinor ASA, an energy company, engages in the exploration, production, transportation, refining, and marketing of petroleum and petroleum-derived products, and other forms of energy in Norway and internationally.
The company was formerly known as Statoil ASA and changed its name to Equinor ASA in May 2018. Equinor ASA was incorporated in 1972 and is headquartered in Stavanger, Norway.
Equinor's operations are managed through operating segments (business areas). The reportable segments are:
Exploration & Production Norway (E&P Norway)
Exploration & Production International (E&P International)
Exploration & Production USA (E&P USA)
Marketing, Midstream & Processing (MMP)
Renewables (REN)
Norway holds the biggest share of EQNR's non-current assets, at ~52%, followed by the US, at ~19%, Brazil, at ~15%, the UK, at ~6%, with the remaining 8% placed in over six other nations: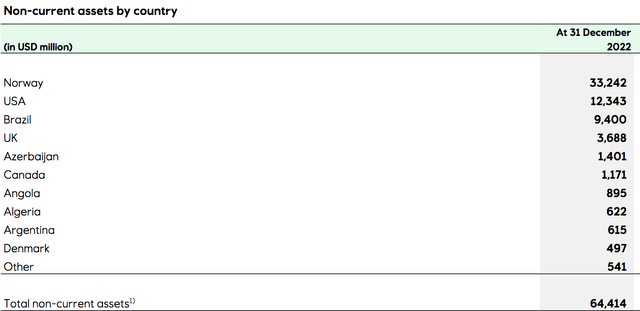 Earnings:
Norway E&P is the largest segment – with 57% of EQNR's revenues and 86% of its NOI in 2022. E&P USA earned 5% of 2022 NOI, MMP brought in ~4.5%, and E&P International earned 4%.

Average liquids prices were up 6% in Q4 '22, but surged 42% in full-year 2022 due to the rapid change in European supply sourcing. Volumes were down 5% in Q4, and down 2% in full-year 2022, while total power generation rose 100% in Q4 and 70% in 2022. Renewable power generation was down 2% in Q4 '22, but up 6% in full- year 2022:

Revenues were up 5% in Q4 '22, whereas net income jumped 134%, and diluted EPS surged 141%. Operating cash flow was down 48%, due to Equinor's exit from Russia earlier in 2022, coupled Q4 2022 turnaround activity in the US, and partial divestment in the Martin Linge field on the NCS resulted in reduced production levels for the quarter.
As we've seen elsewhere, EQNR had higher interest expenses in Q4 '22. But, even with EBITDA down ~13%, EBITDA/interest coverage was still a robust 34.7X.
Full-year 2022 saw 68% revenue growth, 200%-plus growth in EPS and net income. EBITDA rose 96% for the year, ramping up interest coverage by 74% to 61.6X.
2022 operating cash flow rose by 22%, and free cash flow before capital distribution came in at $32 billion. The earnings brought return on capital employed to 55%. Management is estimating free cash flow over the 4 years to 2026 of ~$25B.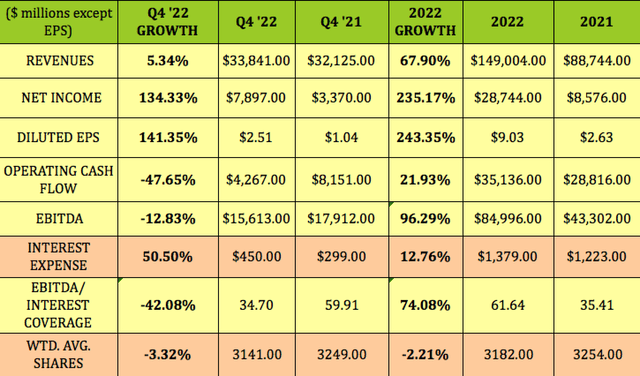 Growth Projects:
Management sanctioned 13 projects in 2022, adding around 600M barrels in reserves. They have around 35 exploration wells planned in 2023, and they estimate a 3% production increase. EQNR continues to have several large projects in the works for 2023 – 2025 in its E&P Norway and E&P International segments.
By the end of the decade, management expects the production to be on par with current levels, while delivering a 50% reduction in EQNR's emissions.
"The estimated production will secure long-term supply of gas from NCS to Europe. We expect the average annual production to be above 40 BCMs throughout the decade. And our pipe gas to Europe have less than one-fifth of the CO2 intensity compared to LNG imports." (Q4 call)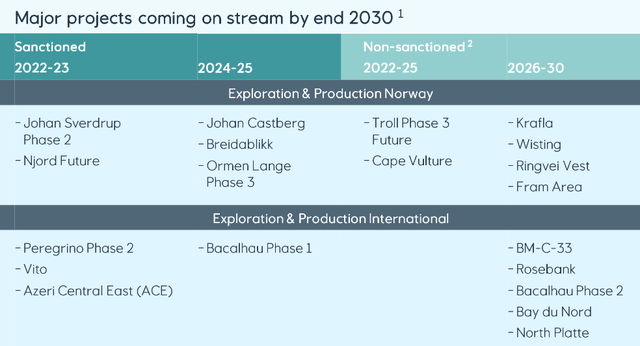 EQNR has six renewables projects in operation, with an additional one, the Hywind Tampen sanctioned for 2023, and the world's largest offshore wind farm, the Dogger Bank being developed in 2024-2026. EQNR owns 40% of this joint venture.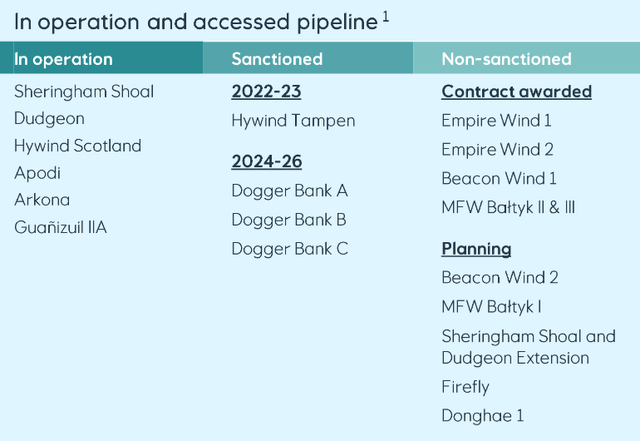 Capex:
Management estimates that, at $80/barrel, 2022-2023 operating cash flow will average ~$25B/year, with capex at ~$10B, decreasing to ~$20B/year in 2024-2025, with capex increasing to ~$12B. Capex will continue to increase in 2026-2030, to a ~$14B level, while CFFO is expected to return to a $25B average.
At $65/barrel, average CFFO is estimated to average ~$16B through 2025, and is expected to rise to ~$20B/year in 2026-2030: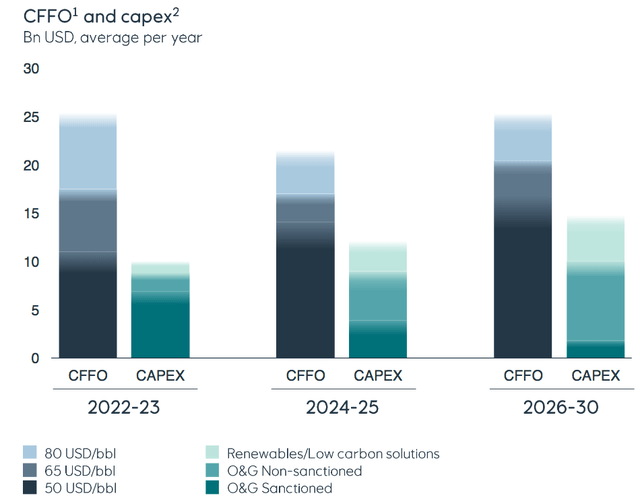 Dividends:
EQNR's most recent distribution was related to Q4 '22 earnings. Management paid a regular $.20/share dividend, but paid an extraordinary dividend of $.70, upping it from the previous $.50/share paid in November '22.
Management has proposed a 50% hike in the regular dividend to $.30/share, and also proposed a $.60/share extraordinary dividend for the next dividend, which will be voted upon at the May annual shareholders meeting.
As noted at the top of this article, management intends to keep EQNR's dividends at this much higher level for the next 3 quarters. While that doesn't equal a full year, you can see that annualizing it would result in a 13.25% dividend yield.
Even if they only pay a $.30 regular dividend in Q4 2023, that would still equal a total of $3.00 in dividends for full-year 2023, a 25% increase vs. 2022. On a stock priced at $27.18, that still equals a very attractive dividend yield of 11%.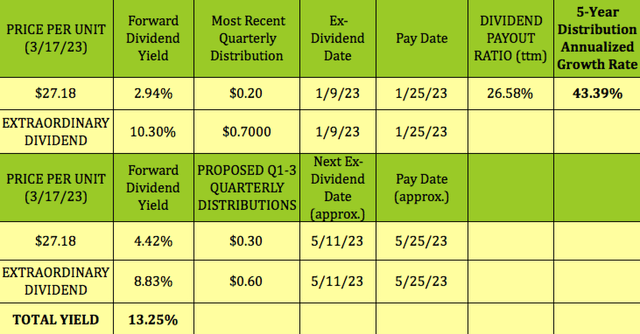 Management rewarded shareholders with a huge 224% hike in dividends/share in 2022. But since EPS rose 243%, EQNR's EPS/dividend payout ratio actually improved by 5.5%, dropping to a very conservative 26.58%. And that's including a large amount of non-cash depreciation and amortization.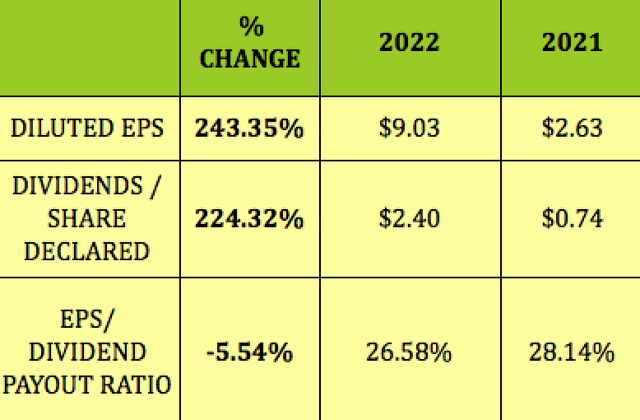 EQNR also did $3.3B in share buybacks in 2022, up tenfold vs. 2021.
"EQNR's board has also decided to increase the USD $1.2 billion share buy-back program with up to USD $4.8 billion, resulting in a programme up to USD $6.0 billion in 2023."

Taxes:
While Norway imposes a 25% withholding tax on dividends received by foreign investors, there's a tax credit on foreign taxes paid that you can take on your US tax return. However, you should consult your tax advisor for more info on this matter.
Profitability and Leverage:
Nothing to explain away here – EQNR's ROA,ROE, and EBITDA margin figures trounce its industry's averages. Meanwhile, its net debt/EBITDA leverage is 20X lower than the industry average, and its interest coverage is 16X higher.

Debt and Liquidity:
EQNR has remaining long-term bond debt of USD $26.2B, with an average of nine years to maturity.
It also has a multi-currency revolving credit facility of USD $6B, including USD $3B "swing line" (same day value) option. The facility was signed on 5/6/21, and is available for three years. Equinor has the option to further extend the maturity twice by one additional year. The first option to extend has been utilized.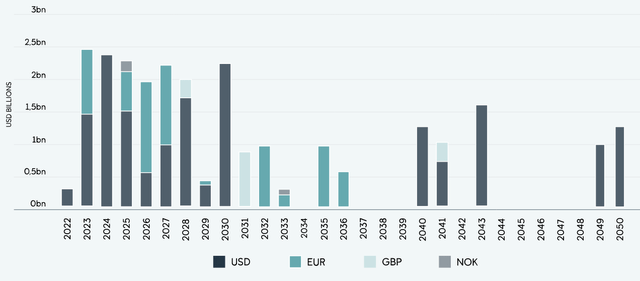 EQNR's debt is rated high grade investment grade stable by Moody's and S&P:

Performance:
With all of its virtues, you'd think that EQNR would be favored by Mr. Market, but that hasn't been the case – EQNR has trailed its industry and the S&P 500 over the past week, month, quarter, year, and so far in 2023.
In fact, EQNR is only 3.4% above its 52-week low of $26.18, and looks way oversold on its stochastic chart.


Analysts' Price Targets:
At its 3/17/23 $27.18 intraday price, EQNR was 32% below analysts' lowest price target of $36.00, and ~56% below the $42.33 average price target: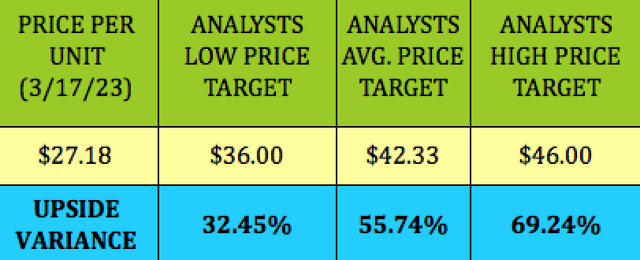 Valuations:
EQNR looks undervalued on a forward P/E basis, and very undervalued on a trailing P/E basis. Its EV/EBITDA ratio of 1.2X is the lowest we've seen in some time, while its price/sales also is lower than its industry average.

Parting Thoughts:
Low leverage, ongoing strong cash flow, a very attractive dividend yield, a management willing to reward shareholders, and a unique geographic location creating a tailwind – there's a lot to like about EQNR, which is why we just bought shares this week. We rate it a strong buy.
All tables furnished by Hidden Dividend Stocks Plus, unless otherwise noted.