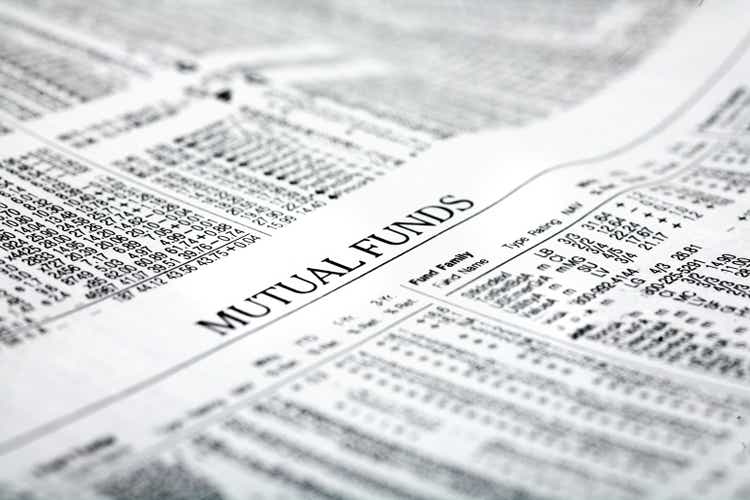 Given the recent spate of regional bank issues announced over the last two weeks and liquidity/solvency concerns on the rise, it wasn't too surprising to see that investors injected a net $108 billion into money market mutual funds during the Refinitiv Lipper fund-flows week ended March 15. The money market funds macro-group witnessed its fifth largest net inflows on record dating back to 1992—when Lipper began tracking weekly flows—and its fourth week of net inflows in five this past week.
The other four larger weekly net inflow observations were witnessed in late March through mid-April 2020, during the first few weeks of U.S. lockdowns caused by the coronavirus, with investors injecting a net $728 billion for March and an additional $334 billion for April. As one might imagine, other periods of market stress also saw significant flows into money market funds as investors sought safe havens to park their hard-earned savings and investments—until other opportunities arose.
However, with the increase of short-term rates stretching over 5%, investors are eyeballing comparatively handsome money market returns as of late. So, they are not only a place to duck for cover to avoid related market declines, but also a source to take some of the bite out of inflation and the loss of purchasing power.
Mind you the short-term rates are not a complete offset given that, while improving, the consumer-price index showed the cost of living came in at a 6% year-over-year rise in February, down from 6.4% in January—its lowest since September 2021. However, the rise in short-term rates is better than earning the stingy returns offered over the last several years by money market funds and savings accounts.
While way too presumptuous given we are not finished with the first quarter of 2023 and have witnessed some drastic declines in Treasury yields over the last several days, the average annualized total return for taxable money market funds was 4.00%. In the table below, we show the rolling one-year total returns for 1993 through 2022, but we needed to annualize the returns for comparability for 2023. As a reality check, the average SEC seven-day yield reported on February 28, 2023, was 4.16% for U.S. money market funds.
During the fund-flows week ended March 15, the Treasury yield curve shifted down considerably, as Treasury yields plummeted and investors reset expectations for future rate hikes, betting financial instability related to banking-sector weakness will cause the Fed to slow or pause its rate hikes. For the fund-flows week, the two-year Treasury yield fell 112 basis points (bps) to close at 3.93%—experiencing its largest one-day decline (57 bps) on March 13, 2023, since October 20, 1987. The 10-year Treasury fell 47 bps for the week, closing at 3.51%.
As a result of Silicon Valley Bank (SVB) (SIVB) being shut down by California regulators and put in receivership under the Federal Deposit Insurance Corporation (FDIC) on Friday and New York's Signature Bank (SBNY) being shuttered by state regulators over the weekend, contagion concerns were on the rise, despite the quick response and commitment by the Treasury Department, FDIC, and the Fed to safeguard deposits at Signature Bank and SVB.
With fears that the inverted Treasury yield curve might be pressuring the banking industry, the odds of a 50-bps hike by the Federal Reserve Board on March 22 waned. Fed-funds futures traders priced in a 71% probability that the Fed will now hike its key lending rate by 25 bps, according to the CME FedWatch Tool.
For the fund-flows week, investors appeared to focus on the more diverse, high-quality money market fund options—despite the lack of FDIC insurance—betting that the large, well-diversified government and Treasury-focused taxable money market funds provided by key leaders in the fund industry would not experience liquidity issues if more shoes were to drop in the regional and global banking sectors.
Collectively, taxable money market funds attracted a net $113.1 billion this week. Institutional U.S. Government Money Market Funds (+$54.5 billion) took in the largest draw of net new money, followed by Institutional U.S. Treasury Money Market Funds (+$48.4 billion), U.S. Treasury Money Market Funds (+$16.2 billion), and U.S. Government Money Market Funds (+$11.8 billion).
In a risk-off move and preference for high-quality short-term instruments, fund investors were net redeemers of Money Market Instrument Funds (-$10.0 billion)—which experienced the largest net redemptions this week—and Institutional Money Market Funds (-$7.8 billion). Investors gave a cold shoulder to tax-exempt money market funds as well, redeeming a net $5.1 billion, with none of the classifications in the macro-group taking in net new money for the fund-flows week.
Editor's Note: The summary bullets for this article were chosen by Seeking Alpha editors.