When the nation's bankers show up to work in New York City and shuffle in line at the coffee bar, Virginia Vargas has already been on her feet for two hours.
Vargas arrives at the Federal Reserve Bank of New York, where regional bankers make decisions that shape US economic policy, by 6am to start prepping the office coffee bar. By 8, she is ready to greet employees in need of a jolt of caffeine with a smile.
"I love it," said Vargas, who is 67. "I've worked in every single [part]" of the New York bank's food service operation. "I love it because I've been there for 27 years, and I spend more time with our customers at the Fed than what I spend at home."
However much she loves her job, Vargas joined food service workers at the Fed and eight other institutions across New York and New Jersey this month in voting to authorize a strike. That's because many of the hospitality workers who serve the Federal Reserve employees often can't afford their own living expenses.
"What would I do with a pay bump? Just imagine!" Monica Castillo, a catering worker at the bank, said in Spanish. She said workers had waited too long to receive a livable wage. "It would go a long way to help pay bills – rent, groceries, other costs. It would be a huge help because everything is so expensive."
Vargas and Castillo are members of Unite Here Local 100, a union predominantly made up of women and people of color. Its members work in food service in cafeterias, airports, sporting venues, restaurants, and other locales across the New York City area and New Jersey. The union's workers at the offices of Bloomberg Media, the United Federation of Teachers, Ramapo College, and other sites also voted to authorize the strike.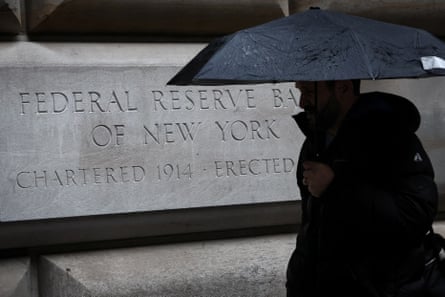 Vargas, Castillo and their colleagues are employees of Sodexo, one of the three largest food service providers in the US. And at the Fed, union members have been bargaining with the company since their contract expired in February 2022.
Hospitality workers at the Fed say that their strike vote was effective in bringing management back to the bargaining table, where the union is asking Sodexo for a wage increase to $20 an hour for its members. The two sides met on Friday 17 March, but according to Local 100, a deal was not reached; another bargaining session is now slated for Friday 31 March to discuss wages, health care, retirement, and other points.
Asked for comment, a Sodexo spokesperson offered a joint statement with Local 100, saying that "many important issues" had been agreed on but that other "significant" points remain. "We are confident that we are on a path, with additional and continued good faith bargaining," to a full agreement, said the spokesperson.
The union said it too was committed to bargaining in good faith and its workers were prepared to take a number of legal actions to reach a deal, including going on strike.
The protracted nature of the contract fight, combined with stagnant wages, has resulted in workers leaving their jobs and the Fed dining facilities being shorthanded. "We don't have enough permanent people," said Vargas. "Because nobody wants to work for $16, $17 an hour."
In order to fill those gaps in the food service workforce, according to the Local 100 members, Sodexo has brought in temporary non-union workers from a staffing agency and, in some cases, those workers make a higher hourly wage than the union members. The last time Sodexo workers at the New York Fed received a raise was two years ago – of 65 cents.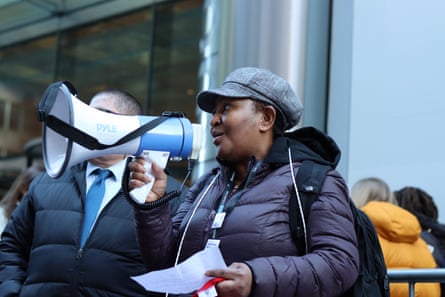 Todd Vachon, who leads the Labor Education Action Research Network at Rutgers University, said the longer employers dragged out contract negotiations, "[the more likely] people just leave because they can't afford that job any more. It's a constant battle."
By some estimates, the workers' proposed wage increase won't come close to helping them weather the sky-high cost of living in New York City. According to the MIT Living Wage Calculator, a livable wage for a childless adult in Manhattan is about $25 per hour. As families grow, that number only gets higher.
"Everyone in society benefits from food being affordable," said Vachon. "But is it affordable because we're not paying workers [fair] wages?"
Sodexo workers in the US have been successful at unionizing at university dining halls, convention centers, and at the US House of Representatives, among other venues. Just as Local 100 returns to the bargaining table, another hospitality workers' union – the Culinary Workers Union Local 226 in Las Vegas – reached a tentative agreement with Sodexo this month, after voting to authorize a strike in December.
Business has been strong for Sodexo, a trend highlighted in recent company press releases. The company's underlying operating profit in the last fiscal year exceeded $1bn.
"A lot of the money that the companies are making is just going to the top," said Vachon of the food service industry.
Castillo said she and her co-workers hoped that they could avoid a walkout, but that their biggest fear was losing their jobs, especially in this economy. "It's time. It's time for [the hospitality workers] to be appreciated," said Vargas. "I'm looking forward going into bargaining [and to] finish this. It's been going for so long. We deserve what we're asking. We deserve respect."