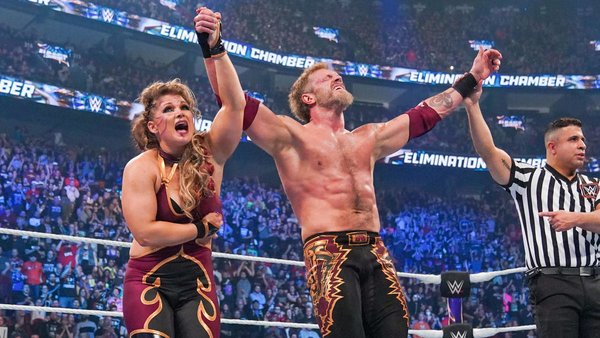 While he's yet to set a date, Edge has reiterated how he plans to retire in Canada.
[embedded content]
Speaking at the post-Elimination Chamber press conference last night, the Rated-R Superstar was asked about his retirement plans.
Via eWrestlingNews, the WWE Hall of Famer detailed:
"I try not to make any firm decisions, but here's what I can say about tonight. For nine years, I was retired. I came back and I get to team with my wife, who I married while I was retired and we had two beautiful little girls. If it looks like I'm having fun out there, it's because I'm having a blast. We get to hit a Shatter Machine, which we've never attempted before, and we pulled it off. I'm just ecstatic. I'm not even thinking about what I'm having for breakfast tomorrow, let alone in six, seven, eight months, but I do [want to retire] in Canada."
As alluded to there, Edge and Beth Phoenix were victorious last night over the Judgment Day's Finn Balor and Rhea Ripley, with Edge pinning Balor after the Irishman was hit with the Shatter Machine; a finishing move made famous by the FTR tandem who are these days good friends of the Grit Couple.
What lies ahead at WrestleMania 39 for Edge and/or Beth remains to be seen, but first and foremost for the Canadian appears to be a match against Austin Theory. That post-PLE press conference saw Theory thrown down an open challenge for his United States Title on Monday's Raw… and Edge later noted how he'll be accepting that challenge.
Of course, Edge was forced to retire in 2011 due to neck issues, though the 11-time World Champion would make a shock return to the ring at the 2020 Royal Rumble.